Podcast: Play in new window | Embed
Tech News & Commentary
Jon in Rocklin, California listens to the Podcast and is calling via the App asked us: "My wife and I have a tendency to destroy headphones and I was hoping you could help us. My wife's a runner. I am not. But I do work a lot around the house, in the yard,and I'm a little bit abusive on my headphones. Wondering if you can suggest something that can deal with some abuse, ideally in the under $50 range and be able to answer the phone. If you can give some suggestions, both wired and wireless, I'd appreciate it."
Jon, There are several durable and rugged earbuds, but they're typically above your $50, threshold.
Under $50, you can consider the JLab J4Ms, they're built with aluminum protecting all of the components, and the cables themselves are tangle free and and reinforced with Kevlar. Those will cost you around $40, and they will let you answer your phone.
Since your wife's a runner, she may appreciate the Yurbud brand, they're molded so that they will stay in your ears when you do any kind physical activity (they call it "twistlock technology," but it's really just properly shaped rubber that won't slip out easily), and since they're made for working out they're reasonably resistant to the occasional tug on the wires. You can find Yurbud models from around $25.
Even with wired options staying under $50 is tough when you're looking for rugged models, and it gets even harder when you're looking for wireless options. You can find a few, but make sure the sound quality and comfort are not below your expectations.
The Soundpeats Qy7 Mini Lightweight Wireless earbuds cost around $30 and do claim to be gym and exercise earbuds and "durable," so they may be worth looking at… However, they also look like a product that leaves a single chinese factory with 10 different brand names printed on the side, so be careful and make sure they actually meet your standards if you go with them.
Jarv offers several models under $50 that also claim to fit your needs and are wireless, you can have a look at those too.
Just keep in mind that better known brands like Plantronics and Jabra usually charge over $100 for their wireless earbuds, so don't expect greatness from suspiciously cheap alternatives.
For more information tune in to Hour 1 of our podcast.
Consumer Reports Segment:

Nintendo has been creating popular handheld gaming devices since the original GameBoy back in 1989. The New Nintendo 3DS XL — yes, that's the official name — is its most full-featured offering to date. But is it worth the money? Consumer Reports just finished reviewing it. Their electronics spokesman James McQueen is on the show to tell us what they found.
The "Into Tomorrow" team discussed the latest apps that they have been playing with recently.
• Samantha recommends:Trivia Crack, FREE

"I have jumped on the bandwagon, my favorite app is trivia crack. The categories are entertainment, history, science, geography and sports. You can download the free version that does have a few pop up apps after each round or an ad free version for $2.99. Check it out. I have found that I know a lot more about sports than I thought." — Samantha
• Chris recommends: Find Me Gluten-Free, FREE

"My favorite app this week and one that has helped us a lot is called Find Me Gluten-Free. We recently learned that our two year-old has a pretty major gluten sensitivity. Basically any time he eats pasta or bread, his face breaks out in a rash and he complains of tummy aches. Luckily, for eating at home, it's an easy fix. We buy gluten free foods and he has no issues. Eating out, however, becomes a problem. Very few restaurants have very few gluten-free options. That's where the Find Me Gluten Free app comes in. Using the app, you can find out which restaurants in your area have gluten-free menus, or at least see menu options at popular restaurants that are gluten-free. You can call the restaurants right from the app if you have questions and read and write reviews of thos restaurants. It has really come in handy and has made dining out a lot easier. Find Me Gluten Free is free for iOS and Android or you can visit the site at FindMeGlutenFree.com" — Chris
• Susan in White Oak, PA, listening on one of our newest "Into Tomorrow" Affiliate radio stations — WEDO 810am recommends: Outlook for iOS, FREE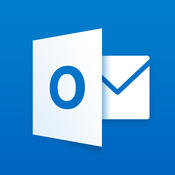 "I've been using Outlook for iOS for a week or so, and have found it to be pretty good. It works very well with our Zimbra server, it syncs the calendar and contacts, and makes it easy to share and access files via OneDrive, Dropbox, Box and Google Drive. Like iOS's built in email client, Outlook lets you swipe left and right to perform actions on a message, but Outlook lets you configure what you want the action to be. Overall, it's been great, the only problem I've had with it is that it stopped notifying me of emails after an update until I opened it again."
What are your favorite Apps? Let us know at 800-899-INTO and we'll feature them in this segment!
Tune in to Hour 1 of our podcast for more details
Guest Segment:

Todd Schwartz, CEO – Education.com
Donald in Silver Point, Tennessee listens on WTN 99.7 FM asked us two questions: "I'm an old man, getting ready to buy a new desktop computer. My current one is Vista. Should I wait until Windows 10 comes out and is on the new models. I don't do very much. I do some surfing, stuff like that. What should I buy as a desktop computer? And 2… iHeart Radio… Does it broadcast sporting events? If you go online to some of these stations, they block out the sporting event and you can't listen to it on the computer. If I go to iHeartRadio, will it broadcast the whole program they have?"
Donald, You probably don't need to wait for Windows 10. It will probably be a much nicer version of Windows with the return of the Start menu and all, but replacing your computer now won't affect you negatively since Windows 8.1 users will have a year to upgrade to Windows 10 for free anyway.
Now, if you really just do some web browsing and nothing else, you may actually be better off with a Chromebook. Web browsing is all they really do, but they're cheap, they're maintenance free, and they won't slow down.
If you do more than that and you do want Windows, you would probably be ok with an inexpensive desktop. For example, a $450 desktop like the… get ready for this… Lenovo H535 57323780 Desktop PC A10-Series (we're betting you can find this one by typing in Lenovo A10 series)… would more than fit your needs with 8GB of RAM a 64-bit processor that will probably play nice with Windows 10, and a roomy 1TB hard drive. You don't have to go for the top of the line, if you just browse the web most basic systems will do, just give yourself some room so you can update to Windows 10 when it's out.
As for iHeartRadio, if the sporting event you're interested in is not streaming on the computer, it probably won't be streaming on iHeartRadio. The NFL and MLB in particular offer their own streaming packages and have tried to retain the rights over what they call "mobile broadcasts," the other leagues seem to be aligning with them. Basically, the need radio stations to be able to reach radios, but they don't need them to reach smartphones, so they're trying to charge subscription fees from listeners instead. It's probably great for them, but it sucks for fans.
Now having said all that, Donald, if you are not in a hurry and you don't feel like fiddling around with a Windows 10 upgrade later this year, then you might indeed want to consider waiting. Windows 10 looks mighty good on paper and in the demos, and it honestly can't be much worse than Windows 8 is, so waiting might be okay.
The good news is, you will never pay MORE for consumer electronics by waiting. You will always get the same device for less money or a better device for the same money. Prices don't rise, they settle along fairly predictable lines, and then the devices slide into place for each level of gear.
We hope this helps!
For more information tune in to Hour 1 of our podcast.
Amanda in Orlando, Florida listens online and is calling via the App asked us: "I've been looking for a battery charging case for the iPhone 6 Plus and can't find any. Do you have any suggestions?"
Amanda, There are plenty of battery cases for the iPhone 6 Plus online, they typically start at around $25 and go up to around $100.
You can find cases with as much as a 10,000 mAh battery, which is powerful enough to charge your iPhone already impressive battery about 3 times.
When you're choosing one, it may be smart to check that it's MFI certified, that's what Apple calls it's certification program and it guarantees that the case will continue to work through any future updates, non-certified cases may or may not continue to work. MFI certified cases are all required to stop charging the phone once it's full and should generally fulfill all of Apple's requirements to ensure that your phone is protected.
If your iPhone 6 Plus is showing battery life problems, you might want to have the phone checked out or take a good look at what's chewing up all that battery life because unless you're streaming video for 10 hours straight or using the phone as a Wi-Fi hotspot all day, it should last.
Also, the iPhone 6 Plus is a big phone already. A battery case is going to make a big phone bigger, and remarkably light phone much heavier. If you're just buying a battery case because iPhones always seem to need one, you might want to hold off for a bit.
For more information tune in to Hour 1 of our podcast.
 This Week's Prizes for Our Listeners
Education.Com: Several "Brainzy" 12-month codes for online early-learning programs for math and reading. If you've got Kids … you WANT one of these!
TurboTax: Several online codes good for one free federal and state Tax Return and e-file for Deluxe, Premier or Home & Business via TurboTax.com
The Grommet: iRoller liquid-free touchscreen display cleaners to remove smudges, fingermarks & dirt from your Smartphones, Tablets and other electronic devices.
OkiDokeys: Complete SmartPhone Operated Smart Lock for your home – including wristband & key FOBS
G-Technology: Several 500GB 7200 RPM Touro S High performance portable Hard drives with easy & local Cloud Backup and in a variety of colors!
NanoTech: Several UltraFlix Gift Cards for 4K Content, like movies and a ton of other cool stuff. Let us know if you have a 4K Ultra HD TV!